I'm takin' a breather from lessons I've been learning to a more lighthearted topic: fashion.
Sometimes fashion feels like the *other* F word. We relate fashion to consumerism, we relate it to vanity, and many people attribute a focus on external appearance as an act that is opposite of acquiring wisdom. The beautiful yet foolish character is one of the most overused tropes in media, so why wouldn't we assume that those characteristics often go hand in hand?
In Ayurveda, the 5,000-year-old science of healthy living, activating physical beauty isn't considered vanity. It's considered "treating your underlying spiritual being like royalty."
In my experience, I've noticed that it takes effort and a level of wisdom to achieve attractiveness. Though some young people may come by beauty effortlessly and do whatever is trendy in the moment, for most it takes learning about caring for skin, learning about shapes, colors, products, and then applying that learning (applied learning is wisdom) to your specific face, body type, coloring, and preferences to be attractive.
Now that that's out of the way
Back in December, I was getting dressed up in a silly Christmas sweater with some Christmas light novelty earrings in anticipation of our town's annual Christmas tree lighting ceremony. I threw on a red lipstick, which is out of the ordinary for me, and as I took one last look at myself before heading out the door, I thought: "This outfit makes me look like Fran Drescher from the Nanny, hah!"
I hadn't thought about Fran Drescher or The Nanny in decades but once the thought struck me, I wondered: why? What did she dress like? All I could remember was her nasally voice and her laugh that could make you wince. So I searched the web, and the results: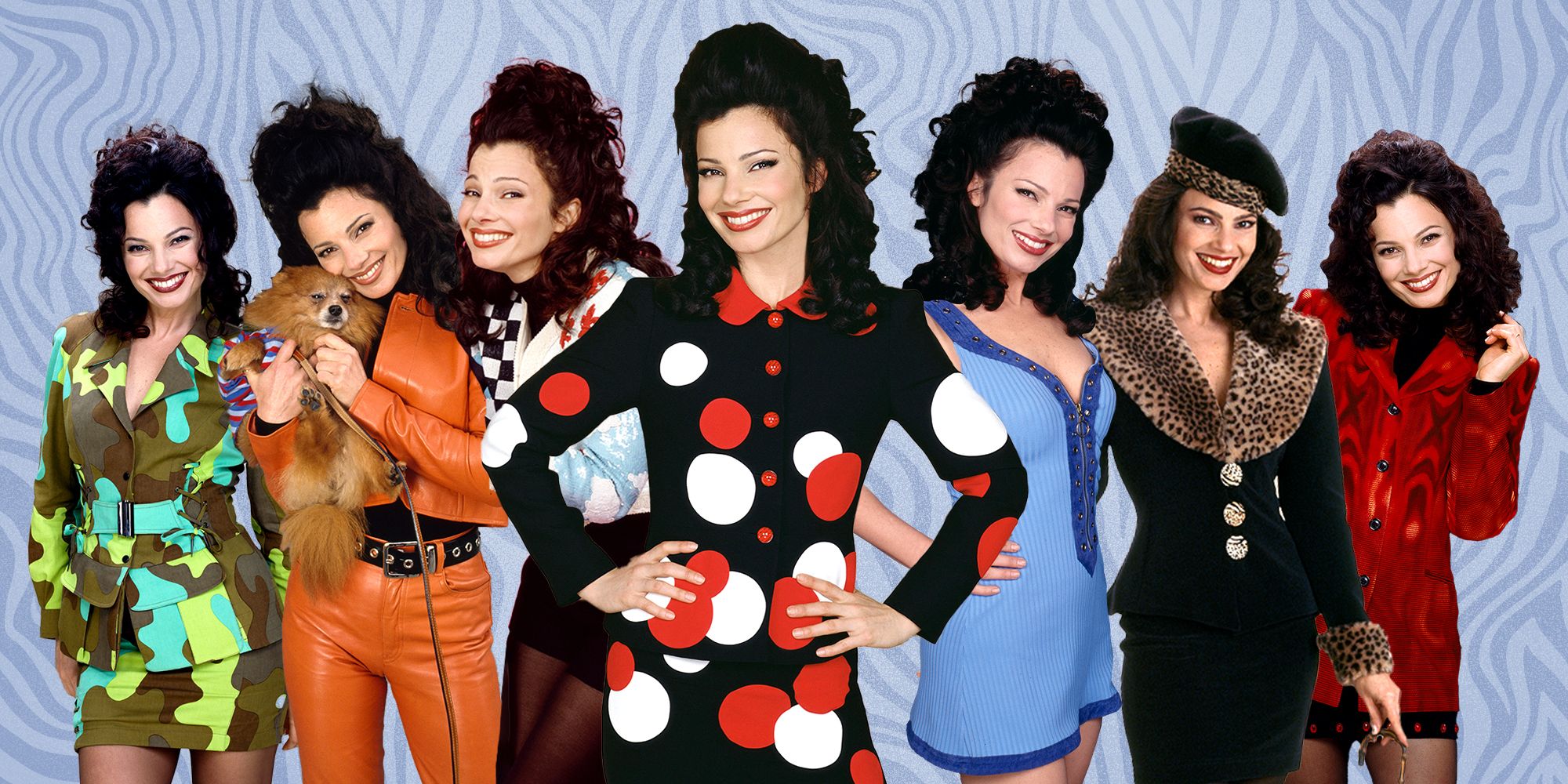 As the kids say, her 'fits were FIRE.
My interest piqued, I dug further. Costume designer Brenda Cooper won the show its only Emmy. Amongst the several articles I read about her, she mentioned that Fran's costumes elevated the humor.
I want my humor elevated.
I want my clothes to be as loud as my personality.
I immediately hit Goodwill and sought out to create some outfits that emulated Fran. There was a simple formula that many of her outfits followed: black turtleneck, black tights, black suede shoes, and a statement piece.
I saw that Brenda Cooper recently published a book about getting dressed, The Silhouette Solution.
The Silhouette Solution
The Silhouette Solution wasn't about how to dress like an over-the-top television character (unfortunately), but rather, it was about making peace with your body, having specific staple garments in your closet that have flattering lines and are interchangeable, and about resisting purchasing trendy things that will quickly go out of style.
The Silhouette Solution encourages wearing outfits that are monochromatic from head to toe, as this creates the illusion of a long, lean figure. Who doesn't want that?
Colors that Suit You
The book has beautiful photos throughout of silhouettes the suggested garments create, all of which generally have a base color of black with pops of other colors. Fran also generally would wear a black base, so when I emulated her, that's the direction I went.
But when I got to the section about color choices, I knew I had made a misstep. In the past, during another rabbit hole, I learned that my hair, skin and eye coloring make me a "soft autumn."
I was told my whole life that black is slimming, it's the best neutral, etc, but it isn't for everyone!
If you're not willing to find out which "season" your coloring best resembles, Brenda Cooper has a different way to find your color: hold up two items of the same color, yet varying shades next to your face and determine which brings out better features. Does one make your eyes pop while the other highlights your rosacea? It's an easy choice from then on out.
All Dressed up and Nowhere to Go
The Silhouette Solution made it so easy for me to know exactly what was missing in my closet that I began to like shopping again (only at Goodwill and Poshmark, aside from hosiery and turtlenecks)—much to my husband's chagrin. But it also helped me work so much better with the pieces in my closet I already had. I was definitely amongst the majority of Americans who only wear 20% of the clothes in their closet. This is what I was wearing one day this week a year ago, and was the general uniform:
Even though all I was wearing was jeans and I sweater, I was still often overdressed compared to my mom peers. We live in an age of Lycra and sweatshirts, which is cool if that makes you feel comfortable in your own skin but not cool of it makes you feel frumpy and like it's an external representation of how run ragged this high paced life is making you feel.
I knew I'd be far overdressed if I wore what I wanted to wear for my simple day of preschool drop off, errands, housecleaning and home repair. I knew I'd get the "Where are you headed, looking so nice?" type of comments if I was wearing skirts with tights instead of jeans. But when I do work outside of the home, I'm wearing fitness gear! I don't need an expensive dinner date or a stuffy office job to give myself permission to dress how I want.
Who wants to wait for the proper occasion to express themselves fully? That I don't have a stuffy office job is all the more reason to get dressed and not worry if it's "too much." I'm "too much," and I like me that way.
That Leads us Back to Fran Fine
When researching The Nanny aesthetic led me to sitting in front of the TV with the kids and indulging in episodes, I saw what it was about Fran Fine that made her so memorable that she crossed my mind unprompted two decades after seeing her character in syndication: she was unapologetically herself. Loud, sexy, funny, opinionated. She came from a different background, level of wealth and status than the other main characters and she's a domestic worker, but she doesn't let that dampen her spirit nor does she water down who she is.
When someone makes a comment or asks where I'm headed, it's convenient it's the new year. I've been consistent in responding: "It's 2023, I'm having more fun getting dressed." When I took my youngest child to the library one afternoon, forgetting that our library bag matched my skirt while wearing a neon red raincoat and iridescent white rain boots, I ran into some old acquaintances and was very aware of how out of place my outfit was, in contrast to their shades of beige sweaters and contemporary knitted headbands.
In the moment I wondered, should I tone it down?
Later, I realized: much like the show's theme song, I was the lady in red when everyone else was wearing tan.